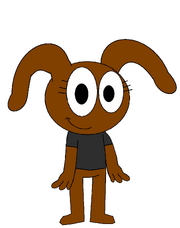 Roxy Ruffles was a character from Stone Rabbit made by Amos Martinez.
Voiced by: Juan Martinez.
Angry voice: Kayla.
Sad voice: Rocque.
Age: 9.
Favorite music: 1930s country music and 1930s rock and roll music.
Love Interest: Stone.
Family Relatives: Mrs Ruffles (mother), Mr Ruffles (father), and Rudolph Ruffles (brother).
Eye Glowing Color: Lavender.
Chainsaw Color: Fuchsia.
Favorite Color: Pink.
Personality: Nice.